Using Candles For Your Wedding Limousine
So in case you were hiding under a rock during the last week or you don't know how to read, you've understood that this site is all about candles but more specifically wedding candles. Since you all have been so supportive since the launch of the site and through the days that we've been posting interesting articles, today I have an extra treat for you.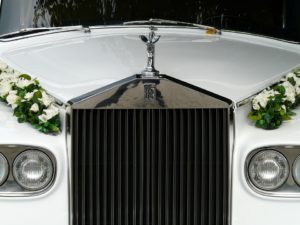 We are going to talk about preparing your wedding limousine, for your wedding day. I won't try and become a designer expert on everything limousines, but what I will tell you is that candles and limousines are the best combination you can get. Think about it! You are ready to head over to the ceremony and you get into a great white limousine that has some very aromatic candles creating a nice atmosphere for you and making you feel nice. Or you add some candles as decoration on the outside of the limo (let the relatives make some bets if the handles will go out?) I mean there are just so many things you can do on your wedding day, if you use your imagination.
To be honest, the combination of a candle and a limo was not my idea. I in fact have no idea when it comes to limousines (not even how much they go for.) However someone I was chatting with on a forum who is the owner of Columbia Limo Service gave me this idea and thought I might as well steal it and put it on this blog. He said he started this new approach to weddings a few years ago as a way to make things a little bit more interesting, than the boring common way of riding to the wedding ceremony. The idea was produced by a suggestion from a client actually: a couple wanted a custom limousine with some extra features added to it (like special decoration) and one of the things they really felt strongly about was wedding candles.
So I got good news for everyone in the candle business: lots of different ways to get those out there to consumers. Of course this isn't a blog for professionals though, so back to all you sweethearts trying to make your wedding day a little bit more special. If you could find a way to light candles around a white limousine (although a black vehicle would make the fire more visible) and cover them with some kind of plastic or glass frame, that would be really exciting! It would make the limousine look as if it's on fire. I mean especially if you plan to make the party with the guests last all night, that would be even greater in terms of aesthetics. A limousine in a bunch of candles…yes, I guess that could work!
Of course, I am more focused on the interiors of the limo. I mean at the end of the day, you do want to look nice in front of all the guests, but what is left for you? You definitely want to make decorations nice and fancy, but don't forget to also take care of you two love birds. Make sure the inside of the limo smells as good as possible. Maybe light a cinnamon candle and enjoy the smell of it while the chauffeur takes you to church. Or maybe some kind of rose…wow I can smell it already in my mind. Guys…don't overthink this: anything that you like will do. Don't overdo it, but don't miss out on some very unique wedding presentations. Most of the guests will have attended other wedding ceremonies before, and believe me that after a certain point it becomes boring to watch the same love story over and over again. After the wedding, people tend to gossip a little bit, so if you want to be in the good part of the gossip war you may want to make an effort to make things a little bit more special and original. How many times will the bride and groom walk in the same shoes, and the same clothes and ride in the same white – plain limousine? Get creative! You will also look good for the pictures!
Hopefully some kind of creativity switch was flipped here and you do something amazing relatives wouldn't expect. If you want my personal take on it, feel free to send me messages with photographs of the decorations. I will be happy to give you my view on certain choices you've made. If you even feel like joining the site, we can arrange some kind of a Google hangout so that we discuss in public for the rest of the people to get some ideas and become creative about their own weddings. I look forward to your messages!